A friend asked for a little help finding cute nursing tops, and I am of course happy to oblige. There are the tops made for nursing, which are probably best when you are just starting and learning to juggle the baby, pulling up your shirt, and still trying to maintain any kind of privacy in public (I hear the last one matters less either the longer you nurse or the more kids you've got...of course here in the Bay Area it's also pretty standard to see women nursing in public) Of course there is no reason to only wear special nursing tops the entire time you plan to nurse.
To start I looked at designated nursing tops, I really like this style -
It's cute, and actually really inexpensive ($20) The part above the empire waist is layered and the layers pull up to allow easy access...
This basic tank is great as an underlayer, worn under a cardigan it could be a good tank to make nursing a little easier -
It comes in black, nude and white, and is only $20 also.
I like this basic tank a little more, it doesn't look as much like underwear and can be worn outside -
This Yummie Tummy version, if you can afford it, is amazing. The middle panel smoothes the tummy, and the straps have clips to make nursing easy -
If you go with these basic tanks, you can wear cute layers over them, wrap tops, cardigans, a flowy tee shirt.
I love this C+C cardigan from Overstock -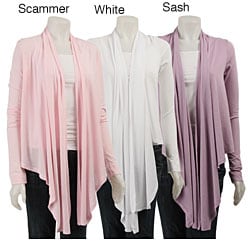 With a cute necklace and bright flats you will look fantastic and it will be easy to nurse.