I saw a photo of Eva Mendes strolling through an Italian town wearing the perfect white summer dress, of course that one is Dolce and Gabbana which is out of most of our price ranges, but I found this on Yoox and thought I'd build my own dreamy summer outfit.
Lets start with the dress -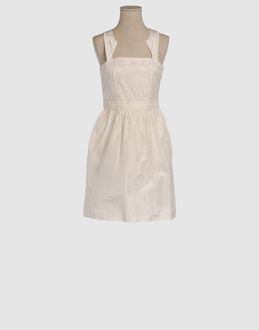 She also wore tan platform sandals, this pair is good -
Plus they look way more comfortable than a super sky high version, cute and comfortable = the holy grail of shoes!
And a non-leather bag, (Eva's was cream canvas) but I kind of like this Lilly Pulitzer straw tote that's on sale on Piperlime -
I also like this one for it's intersting shape and the sharp contrast between the straw and the dark edges, it's a very eye-catching, lady-like bag -
And the jewelry, bangles, and cool sunglasses of course to follow...