I bought these Paige jeans last week from Overstock -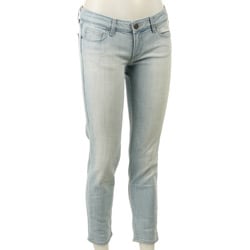 They are a lovely light blue which doesn't come through very well in the photo. The style is really low waisted, even I was a little surprised, but I do like them. Another thing that surprised me was that when I try them on, I feel like they need a little rock n' roll, they suggest it(the rock n' roll thing) but need something kind of 'rough' to look right. So, I was thinking all these shoes with studs would be perfect but there are some issues to think about. First, I am not going to wear one those shoe bootie thingies with stiletto heels. Second, the legs of the jeans are quite fitted, so if I go with a pointy shoe or a flat sandal I look like I have clown feet (what can I say, I have long feet for my size) and then I found these -
Studded Black Wedge Sandals
I have to say, I think they are perfect. The have a wedge heel instead of a stiletto, have a rounded toe, and look at all that black leather and studs! I love them.
Then there is also this gorgeous pair of dove grey flats by Loeffler Randall -
These
Loeffler Randall dove studded flats
are marked down 50%, very nice!