I have been totally in love with this Marc by Marc Jacobs bag since the moment I saw it last month -
I hesitated to buy it because I try not to wear things that scream one brand name or another, I just don't want to pay for the "privilege" of being a walking advertisement, but I keep going back to this back and I still want it! The brown is nice as well, but I already have a brown leather messenger from a few years ago.
Then today I was looking around on Yoox, and found these Alexander McQueen bags -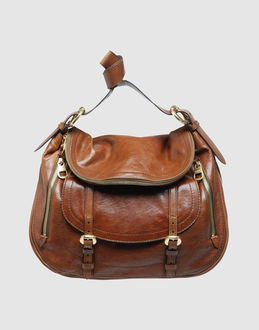 Do they look familiar? I certainly thought so. The brown Alexander McQueen shows it best I think, that the Marc by Marc Jacobs bag is a complete copy, all they did was add those birds on the front. I could not believe it! The flap over the top, the zippers on the sides, the buckles, the only thing different is the birds. Not sure what to think about this, but the Marc Jacobs bag is still alot cheaper than the McQueen, and I have to admit I like the birds, they add something to the otherwise plain design. At least is isn't a big Marc insignia or something... The McQueen bag photos will lead you to Yoox, the MJ bags are available at
Bloomingdales
.